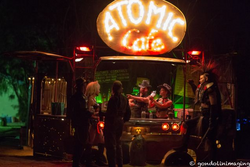 Atomic Cafe was an eatery at the trading post known as Bartertown. It was featured in Mad Max: Beyond Thunderdome.
Description
Edit
In addition to serving alcoholic drinks they also served food such as Lizard soup, making The Atomic Cafe a sort of cafeteria.
The cafe is popular with Mad Max fans, the above picture was taken in the fall of 2012 at Wasteland Weekend in California. It shows a nearly perfect recreation of the Atomic Cafe from Mad Max 3.
Ad blocker interference detected!
Wikia is a free-to-use site that makes money from advertising. We have a modified experience for viewers using ad blockers

Wikia is not accessible if you've made further modifications. Remove the custom ad blocker rule(s) and the page will load as expected.