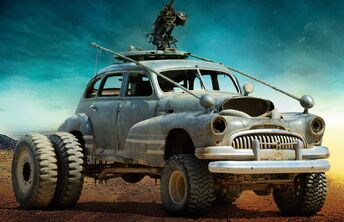 A vehicle simply known as
"Buick"
is a highly modified 1948 Buick Special 4-door Sedan.
Technical spec.
The vehicle was originally obtained in a rough shape, but only its shell was used for the final vehicle seen in the movie. The car was stripped to bare metal by Cameron Manewell's sandblasting. A dually wheel setup was installed in the back and heavy duty front wheel kit was equipped in the front. The bonnet was cut in the front to make space for a massive air filter. A slew-ring turret and an anti-aircraft gun were installed in the roof of the car, with two thundersticks fitted onto front fenders and attached to the roof as well.
Appearance on screen
The vehicle's main role is to guard The Gigahorse and Immortan Joe. The vehicle is only visible in a few scenes, but never engages in any combat despite it's menacing appearance and firepower. The vehicle is seen making its way through the canyon and following The Gigahorse on several occassions.[1]
Appearance off screen
The 'Buick' left Namibia in good shape and was used to promote the movie at the Sydney Opera House Mad Max: Fury Road premiere. Currently the vehicle is kept in storage.
Trivia
Ford Fairlane ZG 1974 aka 'Cop Car' in Mad Max 2 (the vehicle that gets engulfed in flames with molotov cocktails) had a front grille from a 1947-48 Buick - not unlike the one seen in Mad Max: Fury Road.
Gallery
References
Ad blocker interference detected!
Wikia is a free-to-use site that makes money from advertising. We have a modified experience for viewers using ad blockers

Wikia is not accessible if you've made further modifications. Remove the custom ad blocker rule(s) and the page will load as expected.