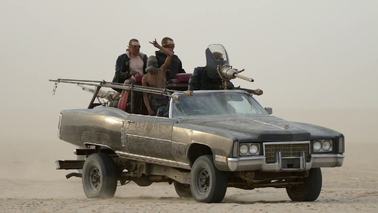 Caltrop #5
is a
Cadillac Eldorado
and presumably is part of The People Eater's armada despite being designated as a Caltrop vehicle in the production documents.
Technical spec.
The vehicle is a left hand drive Cadillac Eldorado with a right hand dashboard from a Ford F100. The vehicle has lifted suspension, it's covered in black pitch.
Design
The vehicle is covered in black pitch which in Mad Max: Fury Road is a byproduct of refining fuel but also is being used as paint and bonding material for vehicles. There are various images cut into pitch, presumably from an English pub. Peter Pound designed the images and some of them show the battles that this vehicle has been through akin to markings on WWII planes.
The early version of this vehicle had a machinegun attached but in the movie the car has this machinegun replaced with a flamethrower making it part of The People Eater's armada.
Appearance on screen
The vehicle is displayed mostly in the background of the chase scenes in the movie. It does not play any prominent role except for that.
Appearances off screen
It is unclear weather the vehicle has been destroyed during filming or not, its current whereabouts are unknown.
Gallery
Ad blocker interference detected!
Wikia is a free-to-use site that makes money from advertising. We have a modified experience for viewers using ad blockers

Wikia is not accessible if you've made further modifications. Remove the custom ad blocker rule(s) and the page will load as expected.