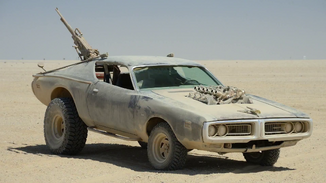 Dodge Charger 1971
referred to as
"Caltrop #1"
on the production vehicle list is The Citadel pursuit and assault vehicle displayed in the background of the armada in Mad Max: Fury Road.
Technical spec.
The vehicle known as "Caltrop #1" is a 1971 Dodge Charger, right hand drive. It's rear suspension used standard leaves with the differential mounted underneath. The factory differential was replaced with a Ford 9" differential with much lower gears. The differential was replaced because of the 39" Tyres.
Front suspension consisted of standard torsion bars wound right up to the maximum.
The engine was standard.
Design
The car is designated as one of the many "Caltrop" vehicles which are designed to drop spikes in front of other vehicles to immobilize them. At first glance it would appear that this vehicle does not have any spike dispenser in the back, however, it does have two containers made from a half-cut fire extinguisher on a swivel. The dispenser seems to be foot operated by the gunner and once it's kicked the half-cut fire extinguisher containers flip and drop spikes that are in them.
The vehicle has a 50mm machine gun operated by the gunner sitting right behind it. It also has two thundersticks attached to the sides. The sides of the vehicles have additional bars above the rear fenders and under the doors. The rear is jacked with massive 39" and lifted suspension.
The front of the vehicle has what appears to be a massive V8 protruding through the bonnet. In the movie it was just a fiberglass casing, the vehicle had a standard engine inside.
Interestingly enough, this is the only vehicle in Mad Max: Fury Road with a pristine, brown and laquer coated bonnet. In the movie invisible but this detail can be spotted in the pictures from the photoshoot done prior to the vehicles going to Namibia. The rest of the vehicle is covered in black pitch.
Appearances on screen
The vehicle is displayed in the background throughout the whole movie and plays no prominent role on screen.
Appearances off screen
The vehicle seems to have come out of filming unscathed, however its current whereabouts are unknown.
Gallery