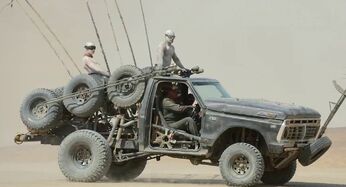 A black pick up truck whose lancer destroys the V8 Interceptor in the opening scenes of Mad Max: Fury Road is a Ford F-100 pick up truck dubbed "Tyre Medic". Also referred in the production documents as "Buggy #1"
Movie modification
The vehicle is a highly modified Ford F-100 pick up truck carrying a vast assortment of wheels. Dubbed the "Tyre Medic" the vehicle's role is to provide wheels and tyres for The Citadel's vehicular armada when needed. The wheels are attached to the back, where War Boy lancers reside as well. The vehicle has multiple thundersticks placed in the back, on the sides and the front. No doors, the driver and the passenger are both exposed. The front end of the vehicle is lifted and overlaps the front windshield. The bonnet is decorated with multiple Ford emblems and a medical cross with a wrench and thundersticks etched into metal.
Appearances on screen
The vehicle is first seen in the opening scenes of Mad Max: Fury Road where one its lancers throws a thunderstick at the rear of Max's V8 Interceptor. The Interceptor flips and the whole chase group halts along with it. The vehicle later escorts both the wreckage of the Interceptor and Max tied to the Mack tow truck.
The vehicle is later sporadically seen during Immortan's chase after Imperator Furiosa.
Gallery