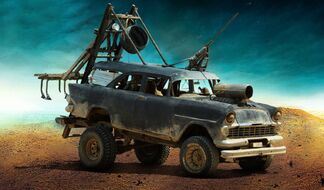 The Ploughboy is a Holden EK Special Station Wagon from 1961. IT is also referred to as the "Clawcar #4" in production documents. The vehicle is driven by members of the Bullet Farm.
Technical spec
Edit
The "Ploughboy" was originally a 1961-1962 Holden EK Special Station Wagon. It can be identified as a Special (as opposed to Standard) version by additional chrome elements, i.e. rear headlights. It was originally powered by an inline six-cylinder engine producing 75 brake horsepower (56 kW).[1]
Movie modifications
Edit
The shell of the vehicle was mounted on an Off-Road chassis. The front tyres can be identified as Bridgestone Desert Duelers. The roof was outfitted with a Harpoon and a hydraulic-driven plough similar to the Claw Truck. It is also Outfitted with a large supercharger intake scoop.
Appearance on screen
Edit
The Ploughboy is seen deploying its Harpoon and Plow attempting to slow down the War Rig along with the other Claw Trucks.
Appearance off screen
Edit
After filming, the vehicle was scrapped in Namibia.
Background
Edit
The Ploughboy was originally a Citadel convoy vehicle which was later re-acquired by The Bullet Farm and re-purposed as a tractor plowing through the land in search of used bullet shells and lead around the lead mining area on which The Bullet Farm was built. The plowing vehicles also double as powerful force for anything that needs to be stopped dead in its tracks across the Wasteland.[2]
The car was originally rusty in color. It was later given a black pitch treatment much like many of the Gas Town vehicles.
The peculiar air intake on the hood is actually used for wrapping the harpoon cable around it.
The vehicle is incorrectly listed as Holden EH on the official vehicle website.[3]
References
Edit
Ad blocker interference detected!
Wikia is a free-to-use site that makes money from advertising. We have a modified experience for viewers using ad blockers

Wikia is not accessible if you've made further modifications. Remove the custom ad blocker rule(s) and the page will load as expected.