Cranky Frank, referred to as "Caltrop no.3" in the production documents is a heavily modified Holden FJ Utility driven by marauders in Mad Max: Fury Road.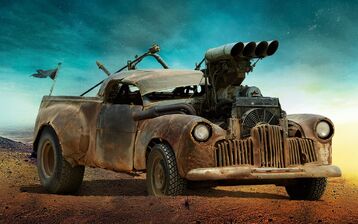 Description
This highly customized vehicle is a Holden FJ, with a Coupe Utility aka. a 'Ute' body. Originally home modified into a rat rod by an unknown father and step son duo in Australia [1] and affectionately called "Frank" or "Cranky Frank" [2] it underwent a lot of changes to its design.
First incarnation
Its first incarnation as a rat rod showed the vehicle with covered engine bay, extremely lowered suspension and chopped roof. The grille was taken from a Holden 48-215/50-2106
[3]
. The doors were held with a latch lock and the centrally mounted seat was taken from a go kart. The roof was chopped leaving only 185mm gap for the driver to look through. The bonnet was later removed to unveil a massive four-intake supercharged Chevy V8 mated to a two-speed Powerglide transmission. It is also equipped with a custom injector hat made of four truck exhaust pipes. The centrally placed seat combined with a massive turbocharger obstructed the view significantly, which made driving the vehicle very difficult. The setup was completely functional as presented in a youtube video and the vehicle was later displayed at motor shows. 
Movie modifications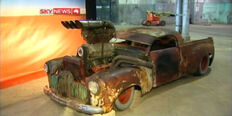 The unusual design of "Frank" sparked great interest from the Fury Road production crew whom acquired the vehicle for the movie. "Cranky Frank" arrived at James 'Johnno' Johnson's Villawood Mad Max HQ in Sydney in 2009 as a pre-prepared 'rat rod', but it was at death's door.
[4]
The engine needed an overhaul, and the car was close to splitting in half due to rust. Two-and-a-half months later, "Frank" was ready for his role in the movie. The car was first put on display as part of the press event on October 24th 2009 to announce the production of Mad Max: Fury Road in Australia (NSW).
[5]
Unfortunately the production  encountered location problems which caused them to relocate filming to Namibia.
[6]
Rough African terrain forced the crew to lift "Frank" for more ground clearance and better driving - the front tyres are BFG all-terrains, generic off-road rally tyres in the back.
[7]
[8]
Technical spec.
The vehicle RWD, powered by a 300hp[9] 383ci Chevrolet engine, a Borg Warner differential from a Ford XT Falcon and the Powerglide automatic transmission. It also has a huge GM 8V92 supercharger, which boosted the engine output to the point where the vehicle required a second radiator under the cargo floor to keep it cool. The vehicle weighs less than a tonne. The accelerator cable was salvaged from a 1999 Land Rover Discovery.
Trivia
"Cranky Frank" is The Gigahorse's appointed guide vehicle.[10]
Out of over 120 vehicles built for the movie, only about 15 survived. "Cranky Frank" is one of them.[11]
References
Gallery
Videos