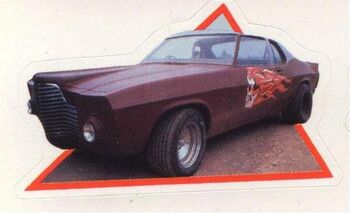 This 
marauder
 vehicle, often referred to as "
Red Monaro
" is a heavily modified 1971 Holden Monaro HQ Coupe.
Technical spec.
The Holden Monaro (mon-ah-ro) is an automobile that was produced by GM Holden Ltd, an Australian subsidiary of General Motors. Three generations of Monaro have been produced, the ones seen in Mad Max movies represent the 2nd generation built from 1971 - 1977.
The 'Red Monaro' seen in Mad Max 2 is a 1971 HQ model, either an inline 6 or V8. Very similar to Nightrider's very own 1972 Holden Monaro. It is impossible, however to determine the exact engine option of this car due to heavy modifications.
Modifications
Referred to as one of the 'street racers' in the preliminary list of vehicles (the other one being the
"Red XA Bat"
and
"ZG 1974 Fairlane Cop Car"
), this car definitely fits the description: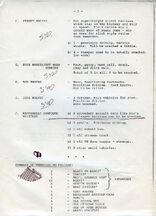 Hot supercharged street machines
which stay on the highway and rely
on speed. Their owners are a
crazed gang of rogue cops - who
go more for slick style rather
than function.

Modifications start with the grille borrowed from a 1940's Buick. Headlights have been moved down and the bonnet modified as well. Further along, the roof was cut to resemble a T-top. Doors have a skull motif painted on the sides. The rear exposes a twin dual exhaust that with Jerrycans right above it. The car is painted red with white roof and seems to have custom front and rear wheels.
Appearances on screen
The vehicle is rarely seen up until the final chase. One deleted scene reveals the owners of this car as they stand up wielding weapons. Surprisingly, the driver's weapon is a machete. In the final chase scene, the crossbow wielding passenger of this car jumps out onto the Humungus' vehicle and frees Wez from his chains with a bolt cutter. That same passenger later jumps onto the tanker with a different weapon altogether and attempts to shoot Max from the roof. He is shot and falls off the truck.
Not long after the car is heavily damaged after Max decides to turn around the rig. The "Red Monaro" is almost crushed under the wheels of the tanker and loses the passenger door. It still attacks nontheless which results in a bent front right wheel.
After Max's head-on collision with Humungus , this car is not seen driving away along with other marauders , but it's safe to assume it came out of the chase relatively functional.
Gallery
Ad blocker interference detected!
Wikia is a free-to-use site that makes money from advertising. We have a modified experience for viewers using ad blockers

Wikia is not accessible if you've made further modifications. Remove the custom ad blocker rule(s) and the page will load as expected.