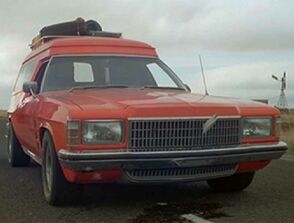 Technical spec
Edit
Max's red van is a custom Holden HJ Sandman Panel Van. The front end was replaced with an HJ Caprice with Ford XC GXL headlights. The engine was a 308 V8 with M21 manual 4 speed transmission. The interior options included full instrument sports dash, GTS steering wheel, HJ bucket seats and full length console.
The body was fitted with GTS fenders, 1970 era luggage rack with runners. The wheels were 14 inch ROH Wild Fire fitted with BF Goodrich tyres. 265/50/14 on the rear and 245/50/14 on the front.
Appearance on screen
Edit
The vehicle is first seen during scenes of Max's vacation with his family. He takes the vehicle to the country side where his wife stumbles upon Toecutter's gang. One of the gang members manages to latch onto the vehicle and have his hand ripped off as Jessie is driving away. Max eventually takes the vehicle along with his family to May Swayze's farm where it's left for repairs. Toecutter's gang finds her and Jessie attempts to escape in the van. The car breaks down on the road and Jessie is forced to escape on foot with her child. Despite May's attempt to protect her and the child, Jessie is killed by the gang.
Movie's production crew could not afford to buy the vehicle on the spot. Instead, the vehicle was paid for in payments for the duration of filming.
Only the right side of the airbrush painting on the vehicle was finished. The other side was not shown in the movie for that reason alone.
References
Edit
Ad blocker interference detected!
Wikia is a free-to-use site that makes money from advertising. We have a modified experience for viewers using ad blockers

Wikia is not accessible if you've made further modifications. Remove the custom ad blocker rule(s) and the page will load as expected.