The
Lobster Cage Car
is a custom vehicle seen in the final chase sequences of
Mad Max: Beyond Thunderdome
.
Technical spec.
Edit
The vehicle reffered to as the "Lobster Cage Car" was originally Pappagallo's Lone Wolf Machine from Mad Max 2. The name "Lobster Cage" comes from an article in STARLOG #95, June, 1985[1] where the vehicle in question was referred to as the "Lobster Pot" and described a refurbished Mad Max 2 vehicle among Mad Max: Beyond Thunderdome vehicles on the set.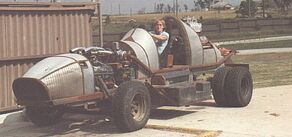 After the filming of Mad Max 2, the vehicle was displayed at the "Village Grand Prix" go-cart place at Blacktown in Sydney's west.
[2]
It was the re-aquired by the production company and modified to make it look similar to other vehicles in the movie.
The modifications mainly include a closed, round canopy which looked similar to a lobster pot, fenders, an air filter for the engine, additional piping and methane tanks and also the removal of the hot-rod style scoop on the rear engine.
Appearances on screen
Edit
The vehicle was specifically designed to be put in deep background of the chase scenes and very briefly in a couple of Bartertown destruction shots. It is next to impossible to find this vehicle among the armada of Auntie's vehicles and for a good reason - George Miller did not want to display this car in full glory because it would remind the viewers of Mad Max 2.
Appearances off screen
Edit
The vehicle survived filming intact and was later displayed at the Sydney Motor Show in 1985[3] among other Mad Max: Beyond Thunderdome vehicles. Shortly after it was put in the storage for nine years until it was ordered to be destroyed in 1994 at the Simsmetal's St Marys facility in western Sydney.[4]
References
Edit
Ad blocker interference detected!
Wikia is a free-to-use site that makes money from advertising. We have a modified experience for viewers using ad blockers

Wikia is not accessible if you've made further modifications. Remove the custom ad blocker rule(s) and the page will load as expected.