The MFP motorcycle unit was a police sub-group of the
Main Force Patrol
. They mainly used motorcycles as means of transport.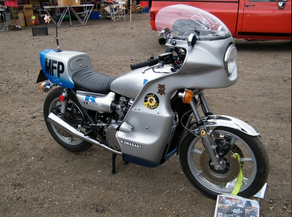 List of members
Edit
Description
Edit
The motorcycle division of the MFP was designed to compliment the vehicular fleet of the MFP. The rampart crimes on the road required a quick response from motorized MFP officers scattered across different sections of the country, usually patrolling roads and engaging in pursuits when available.
The MFP motorcycle unit helped bring down the Toe cutter's gang in Mad Max part 1. Unfortunatly the Toe Cutter's gang seriously injured Jim Goose which later led to his death in the hospital.
Ad blocker interference detected!
Wikia is a free-to-use site that makes money from advertising. We have a modified experience for viewers using ad blockers

Wikia is not accessible if you've made further modifications. Remove the custom ad blocker rule(s) and the page will load as expected.