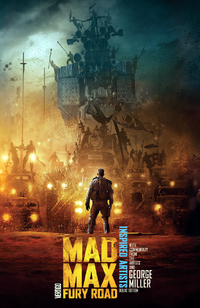 Mad Max: Fury Road Inspired Artists is an art book from Vertigo books.
The book was released on May 12th 2015 and is edited by Abbie Bernstein. It contains 144 pages of Fury Road inspired artwork by comic book artists. Some of the artists included are: Tara McPherson, David Mack, Bill, Sienkiewicz, George Pratt, Dave McKean, Simon Besley, Tommy Lee Edwards, Jim Lee, Gilbert Hernandez, Paul Pope, and Ben Templesmith.
Ad blocker interference detected!
Wikia is a free-to-use site that makes money from advertising. We have a modified experience for viewers using ad blockers

Wikia is not accessible if you've made further modifications. Remove the custom ad blocker rule(s) and the page will load as expected.