Referred to as "Buggy #8" in production documents, or simply as 'The Mini", this marauder's vehicle is a heavily modified Mini Cooper s 1964.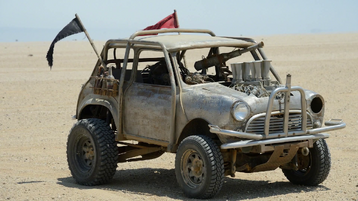 Technical spec.
A heavily modified Mini Cooper S shell from 1964 with a Holden Red straight six engine. The shell was mounted on a Holden 186 farm buggy. The buggy was a cheap eBay buy and the Mini was bought for another reason that was scrapped, so the builders decided to marry the two.
Andrew Rickard - one of the key mechanics for Mad Max: Fury Road wanted to put two gloves on the distributor at the front as a nod for the Mini owners. The glove would stop water from getting into the distributor and the engine from stopping.
[1] The vehicle had a flamethrower mounted in the cab, several molotov cocktails on the side, a roll-cage around the shell of the car, small bull bar, one functioning headlight and a set of six gasser intakes.
Appearance on screen
The vehicle is rarely seen in the movie for a good reason. George Miller hated it and wanted to push it as far back into the background as possible.[2]
Trivia
The geometry of this car was wrong, and the car was difficult to drive.
The vehicle was originally half rusty and half covered in black pitch. Combined with the fact that this vehicle was equipped with a flamethrower and had molotov cocktails on the side one can assume it was originally part of the Gas Town armada. In the 
References
↑ http://madmaxmovies.com/forum/viewtopic.php?f=13&t=9228&p=109501&hilit=mini#p109501 Cameron Manewell, Fury Road mechanic & builder
Gallery