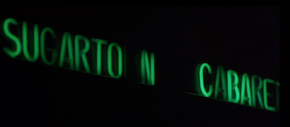 The Sugartown Cabaret is a live music venue and Night club/cabaret that it appears in Mad Max.
Description
Edit
Sugartown Cabaret was often frequented by MFP motercycle unit officer, MFP officer, Jim Goose. Its unclear what the name of the local government area Sugartown was located in. Its known that it was located in or very near Sector 26 of the highway it was located on.
One of the singers performs the song, "Licorice Road", which was written by Nic Gazzana, who portrayed Starbuck.
Ad blocker interference detected!
Wikia is a free-to-use site that makes money from advertising. We have a modified experience for viewers using ad blockers

Wikia is not accessible if you've made further modifications. Remove the custom ad blocker rule(s) and the page will load as expected.