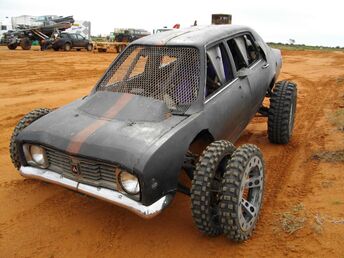 An unused vehicle designed for Fury Road based on The Edge Products' "The Ballistic" dune buggy with Holden HT Kingswood Sedan body. Dubbed "The Boneyard Mongrel" in the movie, referred to as "Buggy #5" in production documents.
Technical spec.
Edit
The Ballistic, designed for class 1 off road racing in Western Australia is the largest buggy project The Edge Products have taken on to date. (1998). Constructed from the ground up for off road enthusiast Steve Alford, the Ballistic was designed in house on a 3D Solidworks CAD station by The Edge Products owner Tony Sanger.
http://www.theedgeproducts.com/
It features components such as:
Progressive rising rate bellcrank suspension
Fore / Aft seating layout
Subaru WRX Turbo injected motor
Automatic 4 speed Transaxle
19" Twin Tyre Wheels
Double "A" arm suspension on all corners
Collapsible nose cone
900kg dry weight
Spaceframe Chassis in CDS tubing
Removable tail section
108" wheelbase
78" Track
Suspension travel from = 600mm (23")
Suspension travel rear = 500mm (19")
Movie modification
Edit
The vehicle was loaned for the production of Fury Road and used as a chassis for radical body modification. The vehicle received a Holden HT Kingswood Sedan body which was cut in the middle to wrap around the roll cage of the vehicle. It was wider in the back, and narrowed down towards the front, ending with two front lamps sitting close next to each other. Also, the twin rear wheels were replaced with single wheels, twin front wheels remained unchanged.
Reasons for not using
Edit
The vehicle proved to be very unstable with poor handling due to changing of the twin rear wheels & moving away from the original design concept. The original front  wheels were damaged which exacerbated the handling problems. It was also very difficult to get out of due to the buggy chassis wrapped in the Kingswood shell, which caused a hazard for the stunt drivers getting in & out. The vehicle was returned to the owner before the production moved to Namibia.
Ad blocker interference detected!
Wikia is a free-to-use site that makes money from advertising. We have a modified experience for viewers using ad blockers

Wikia is not accessible if you've made further modifications. Remove the custom ad blocker rule(s) and the page will load as expected.