Toecutter's gang, also known as The Acolytes, were a motorcycle gang that terrorized Highway 9, sector 26 following the destabilization of civilization. They were led by the psychotic Toecutter and often were engaged in road wars with the Main Force Patrol.
The gang met their end by the hands of Max Rockatansky.
Description
Edit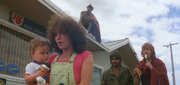 Many of the gang members acted (or in fact were) psychotic, striking fear and uncertainty into all they came across. Some were more contemplative in their madness such as Toecutter, Bubba Zanetti and Cundalini, whilst others like Diabando, Starbuck and Mudguts acted more like rabid animals. However, collectively they were all known thieves, murderers and rapists.
List of Members
Edit
Ad blocker interference detected!
Wikia is a free-to-use site that makes money from advertising. We have a modified experience for viewers using ad blockers

Wikia is not accessible if you've made further modifications. Remove the custom ad blocker rule(s) and the page will load as expected.